The purpose of the ISC project is to offload sensor control to an embedded controller which communicates over an I2C interface to the UKMARSBOT MCU.
The ISC comprises a programmed ATtiny814 acting as an I2C Slave on a PCB which plugs in between the UKMARSBOT sensor board connection and cable to the sensor board itself.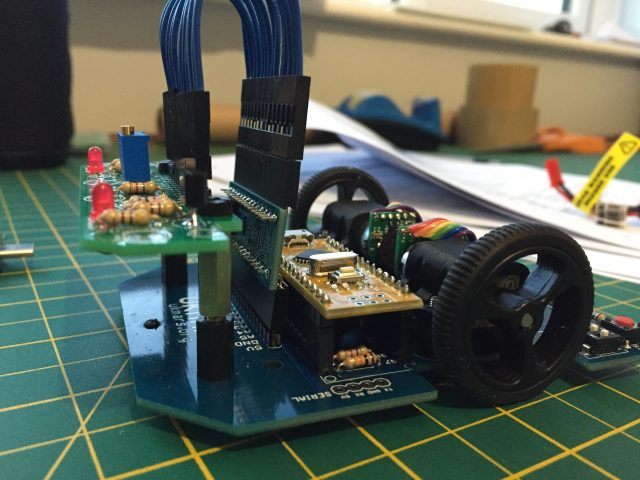 Possible benefits include, but are not limited to:
Simplifies Arduino Sensor Code

Start/Stop marker detection by using configurable interrupts and internal hysteresis to prevent nuisance trips

Simplifies Arduino LED Indicator Code
Frees up Analog Inputs for other tasks
Facilitates the use of the I2C bus on the MARSBOT

Allowing Accelerometer / displays to be fitted

Faster Sample time (to be quantified)
I2C interface makes sensor boards compatible with MCUs with no Analog Inputs.
The project comprises of; ISC Arduino Library, supporting documentation and ISC PCB. All of which may be downloaded from: https://github.com/slinkyfish/ISC-Project
ISC Arduino Library
The Arduino Library includes example sketches:
Example 0 Blink
Example 1 Left LED control
Example 2 Read Sensor
Example 3 Scan Time
Example 4 Interrupts
The below code [Example 0] is all that is required to start the Sensor board lights flashing.

The below code [Example 2] configures SENSOR1 to use transmitter to reduce the affect of ambient light, then prints the sensor value to the screen every 100ms.

ISC board / firmware
I have 10 ISC boards with firmware installed. I am not sure how best to distribute these should anyone be interested in obtaining one. I can make design files and source code available, but a UPDI programmer is required to flash the ATtiny814 on the ISC itself.