UK Micromouse and Robotics Society
UKMARS is an organisation focused on encouraging Micromouse and other robotics competitions, in the UK and internationally. Anyone can become a member.
Autumn Competition – Hazlemere, High Wycombe – Contest Results
You can see the results for all the contests hereAutumn 2023 Contest Results
Our next public competition will be at the Minos Conference in March 2024. You can keep up to date with the Minos conference here: https://ukmars.org/events/save-the-date-minos-2024/
Find more and how to join in About Us
The National Micromouse Competition on 1st July 2023
Our main competitionon 1st of July in Worcester delivered another great day of competitions you can see the results
Monthly Virtual Robot meeting – First Monday of every month
News and events
MINOS 2023 – Fantastic sharing of information!
We held our held our annual MINOS conference Saturday 29th April in STEAMhouse Birmingham. We will add more details shortly, but the the conference programme for that event is here minos-conference-2023
Spring Competition 2023 – The Results are in!
On 18 March 2023 we held our Spring Competition in STEAMhouse Birmingham. A great day of contests and some stunning times delivered.
See the results here spring-2023-contest-results
Autumn Competition 2022
We had a great day in Hazlemere at our Autumn Competition with many new robots to entertain us, thanks to everyone that helped with the day.
Results from the contests can be found here: Autumn 2022 Contest Results
Summer Competition 2022
The annual summer competition for 2022 was held on the 25th June 2022 at STEAMhouse, Birmingham City University, Millennium Point. A complete programme of competitions enjoyed by UKMARS members junior robot builders from school's clubs and visitors to the BCU open day.
See the results and a gallery of pictures.
Minos Conference 2022
Our 2022 Minos Conference was held on the 2nd and 3rd April at Birmingham City University. A full programme of demonstrations and presentations on the Saturday followed by a complete programme of competitions on the Sunday enjoyed by UKMARS members, BCU staff and junior robot builders from a local school.
The presentations from the conference can be seen here Minos 2022 Presentations and you can see the results here Minos 2022 Competition Results
Past Events
Read all about our earlier events here Past Events
UKMARSBOT
A simple beginner's multi purpose robot platform.

UKMARS are creating a basic robot design that can be used in a variety of common contests such as line following, wall following, drag race. The robot is constructed using inexpensive and readily available materials, components and techniques.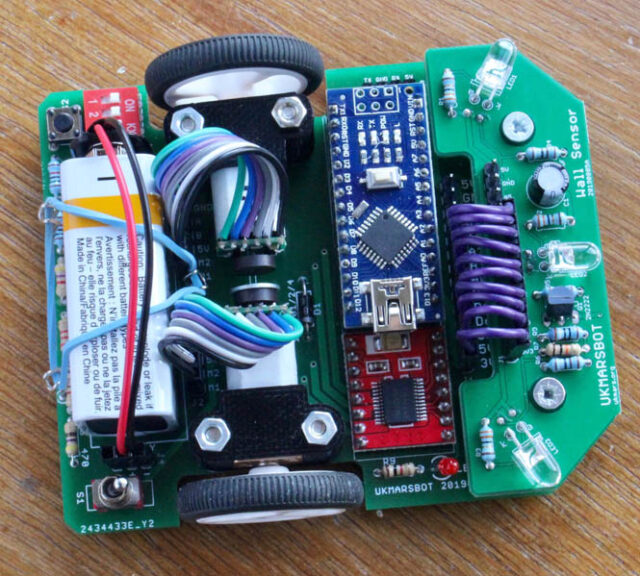 Links and Resources
Robot Builders Resources
We have a whole section packed with useful links to online suppliers and resources
Have a look.
Some starter robot projects
Other pages you may enjoy