Due to COVID, it is not currently possible to hold a Micromouse event in person. However, it would be nice for people who have made line-followers in expectation of competition this year to have a means of comparing them. I have designed and tested a line-follower course that can be shipped round the country fairly easily and this will allow people to test their mice on the same course as others.
It looks like this: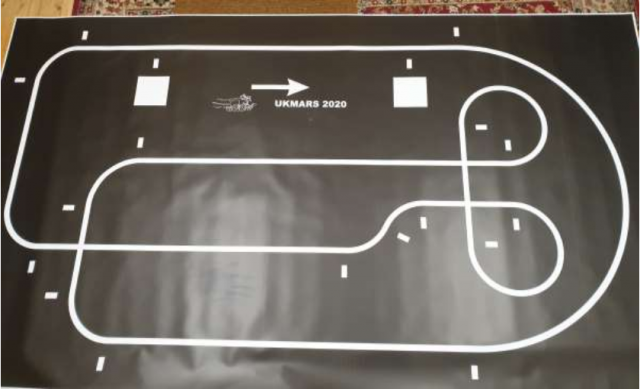 It needs a flat area of 2.5 metres by 1.4 metres plus some space around that for access. It will work on a flat carpeted surface. Some surfaces will not be flat enough and the course should not be laid over the edges of rugs etc. if this can be avoided. You may not complain if the surface isn't flat enough for your mouse!
In order to enter, you need to take a video of your mouse completing one lap of the circuit. You can have as many laps as you like and just enter the best one. Timing will be taken from the video. If you think your mouse will be competitive, please have a stop watch or a clock with a second hand visible in the video to make fraud a bit more difficult. The video must be a single take and show the mouse crossing the start and finish lines indicated by the markers. Speeded-up videos are banned.
Videos must be posted on the Facebook page or the UKMARS website. If this is difficult, please contact me and I will see if there is an alternative.
The rules remain the same as published on the UKMARS website:
https://ukmars.org/contests/contest-rules/line-follower/

You should apply for entry by emailing me at: linefollower@swallow.co.uk. You will be liable for shipping the course on to the next entrant when you have finished with it. Expect to have the course for about a week. It will need to be quarantined for three days after arrival.
Full instructions for unpacking and packing the course will be supplied for entrants. The course and packaging are quite valuable so you will need to take care with them.
WALKING ON THE COURSE AT ANY TIME IS PROHIBITED!

Duncan Louttit 9/10/20